Associate Dean, College of Business, Chung Yuan Christian University
Director, Undergraduate Program in Business and Management, Chung Yuan Christian University
Director, Master Program in Commercial Applications of Big Data, Chung Yuan Christian University
Director, Quality Development and Accreditation Office, Chung Yuan Christian University
Professor, Information Management Department, Chung Yuan Christian University
Associate Professor, Information Management Department, Chung Yuan Christian University
Assistant Professor, Information Management Department, Chung Yuan Christian University
Business Data Communication
Optimization of Mobile Intelligence
Smart Mobile Technologies and Applications
Mobile Intelligence Applications
Mobile Computing and Smart Technolog
Mathematics for Business Application
Data Structures
Mathematics for Management
Management Information Systems (1)(2)
Word from the Associate Dean: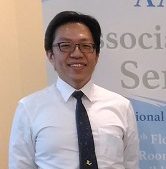 Accredited by AACSB accreditation in 2015, College of Business has become the twelfth accredited business college in Taiwan. The accreditation not only shows the honor of our college but also raises the reputation of CYCU. In the aspects of service learning, student internship, and student employment program, College of Business also received a lot of compliments. We maintain well collaboration relationship with some industries and prepare professional and practical abilities for students as well. As for innovative teaching, course reformation, and distant learning, we play the leading role to optimize every teaching resource and make our students gain better learning environment. Therefore, we look forward to seeing ourselves have more interactions and communications on international communication, industry linking and innovative teaching to cultivate management talents that our country needs.
As for international exchange, COB provides "Chung Yuan Christian University and Temple University Undergraduate Dual Degree Program in Business Administration ", "International Undergraduate Program in Business and Management (IUBA)", and "International Master Program of Business Management (IMBA)". At the same time, CYCU encourages students to attend exchange programs or internship in Europe.
We hope to see more COB students go to European countries for exchange programs to prosper the internalization of College of Business. As the connection of industry and academy, we also have impressive performance on Industry-University cooperation and talent cultivation. We are selected as the best Business-favorite school for two years based on the famous human resource platform-1111 in Taiwan. In the future, we hope to have better result in Industry-University cooperation and talent cultivation. In the aspect of Innovative teaching, we put emphasis on student-centered learning model to develop the key abilities that students would need in the future.
學歷

日本 早稻田大學 商學 博士

經歷
私立中原大學 商業設計學系 辦事員
私立中原大學 國際貿易學系 助教
私立中原大學 國際貿易學系 副教授
私立中原大學 國際貿易學系 系主任
私立中原大學 國際貿易學系 教授
中原大學 圖書館 圖書館館長
中原大學 國際經營與貿易學系 教授
中原大學 秘書室公共事務中心 主任
中原大學 秘書室發展建設中心 主任
中原大學 教務處 副教務長
中原大學 商學博士學位學程 教授
中原大學 商學博士學位學程 主任
中原大學 商學院 院長

研究領域
國際企業、國際行銷、全球運籌、環境管理

開設課程
企業倫理專題研討
商管專題研討(一)
商管專題研討(二)
國際企業管理
國際企業管理專題研討
國際經貿專題研討
國際運籌管理專題研討
專題研究
專題研討
獨立研究(二)
獨立研究(三)

著作
個人研究成果查詢
Sedona
Sedona Web CV
辦公室
管理大樓418室
分機
5000
研究室
管理大樓529室
分機
5122
Email
chengwen@cycu.edu.tw